To the Rempart, Our Philosophy is summed up as follows :
Train smart, with self respect to thrive and have fun with your climbing, for a long time
To allow you to reach your goals we provide you with :
– An osteopath who specializes in the risk and injuries associated with the practice of climbing
– A training in Pilates and functionnal movements design to improve your climbing
– A free access to our relaxing/stretching area and our infra red sauna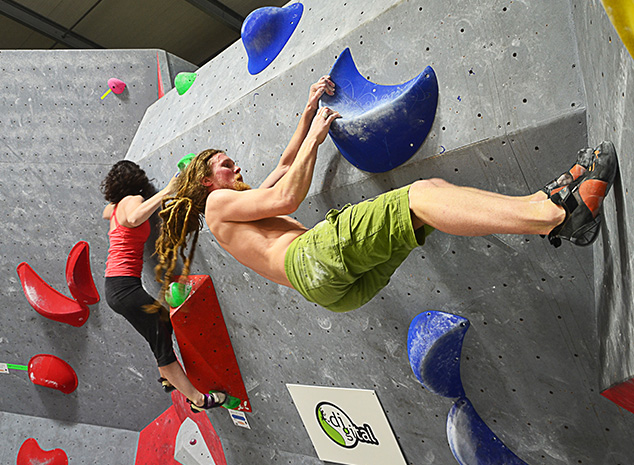 This is an holistic manual therapy, treating acute and chronic musculo-squeletal disorders that could occur during physical activities.
More broadly, osteopathy enables the recovery and improvement of major physiological functions, for any patient types.
Your osteopath, after a five years training, masters cranial, structural and visceral techniques. He specializes with many master classes on ground based treatment, fascial release, articular and muscular dysfunctions.
He complete is training with a 2 years Pilates teacher course, wich allow him to provide you with a movements training in order to  improve your treatment results.
Prices : (for one hour session)
Adults : 60 euros
Children : 50 euros
With annual Membership : 55 eurosTarifs : (séance d'une heure) :
Adultes : 60 euros
Enfants : 50 euros
Abonnés escalade : 55 euros
This health gymnastics designed by joseph Pilates in the early 20th century . Is today very popular among celebrities and professional athletes. Whether you are a climber or want to simply get back into physical activity, these courses are for you !
The exercices will allow you to gain strenght, cardio-vascular function and sharpen your nervous system !
Prices for group lessons  : test session 8 euros / one session 18 € or 16€ with annual membership/10 sessions , 150€ or 135€ with Annual membership 50 sessions, 500€ or 450€ with annual membership
Courses schedule :
– monday 13h-14h ;
– tuesday 12h30-13h30/ 18h-19h
– thursday 19h-20h
The climber's functionnal training 
This course is intended for anyone wishing to increase their physical potential. Its content has been carefully developped by your osteopath. It will allow you to develop a harmonious biomechanics and thus safely forge you a balanced body between strength and flexibility. It is based on a synthesis resulting from the analysis of sports, pilates, biomechanics and neuromuscular physiolgy.
Prices for group lessons : test session 8 euros/one session 18 € or 16€ with annualmembership10 sessions, 150€ or 135€ for annual membership
50 sessions, 500€ or 450€ for annual membership
Prices for individual lessons : one session 60€ or 55€ with annual membership
10 sessions, 550 € or 500€ with annual membership
Courses schedule  :
– Tuesday 19h ;
– Thursday 20h ;